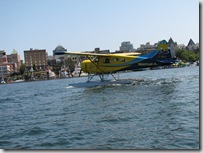 While in Victoria we watched the Seaplanes coming and going.  We had taken a tour in one several years ago in Coeur d'Alene, Idaho. This just seemed like the smart way to get back to Vancouver. Let's see, 35 minutes by air, 3-4 hours by bus and ferry.  A no brainer.
Our last morning in Victoria we visited the Miniature World Victoria.  A history of Canada in miniature along with some whimsical doll houses and fairy tales.  Lunch as Sam's Deli, great pastrami, and last looks around the inner harbor.
Now for those of us that fly all the time this plane check-in, boarding, flying and luggage retrieval is just too cool. No security check.  Be there at least 10 minutes before departure.  Heavy luggage was taken earlier and waiting for us when we arrived in Vancouver.  Carry on luggage was handed to the pilot as you boarded and he stowed it behind a curtain at the rear of the plane.  Flight information and safety announcements were made by the pilot at our boarding door while he was standing outside the plane.  We could have electronic devices except for cell phones on during take off.  (Thank goodness, how else were we going to get pictures and videos?)  Your carry on luggage is handed to you after you deplane.  You retrieve your previously delivered luggage at the check-in desk and it is taken to a van that is waiting to take you to your hotel.
It was just a great adventure and I know that at least one of my friends is jealous based on a Tweet I received.  However, he has taken off from and landed on an aircraft carrier.  I am probably more jealous.  Anyway, this day turned out to be another great day for "The Glamour of the Road".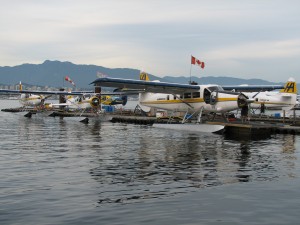 Watch Take Off & Landing Videos